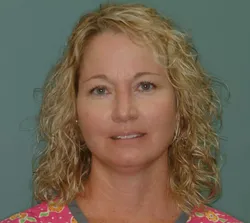 Cheryl Mroczek
Dental Hygienist
Cheryl Mroczek is a dental hygienist in our office. She graduated from Central Community College in Hastings with as Associates Degree in Early Childhood Development and Education in 1985. Then she decided to continue her education in the Dental Hygiene field. She graduated from CCC in Hastings with her Associates Degree in Dental Hygiene in 1998. She has provided patient care in our office ever since she graduated.
Cheryl grew up in Minden, and continues to reside in Minden with her husband, Dave. They have four grown children who are all married and busy with their professions. She enjoys spending time with family & friends, and spending time volunteering for public outreach programs. She has provided dental hygiene services at the Mission of Mercy Dental Outreach in North Platte, Norfolk, and Grand Island. Her hobbies are bicycling, gardening, restoring old furniture, and sewing.
---
---
Lisa Fries
Dental Assistant
Lisa Fries has been a dental assistant since 1990. She is certified in taking radiographs and coronal polishing. She likes many aspects of dental assisting and really enjoys getting to know our patients. She takes pride in making them feel welcome and comfortable while they are in our office. She was born in Minden, and has lived in the surrounding community all of her life.
Lisa stays busy outside of the office following her son and daughter in their activities. She enjoys spending time with her family, her friends, with horses, motorcycles, swimming, camping, fishing, mowing, and anything where she can be outdoors.
---